Directions to Jeremy's London Flat
---
Looking for directions to my San Francisco apartment? Click here.

London contact info
Flat 11, 23 Pembridge Gardens
London, W2 4EB
Mobile: +44 (0)777 091 0633


From Notting Hill Gate station
Arrive at Notting Hill Gate via the Central, Circle, or District line, or via a bus that serves the station After you pass through the gate, head to the north (right) exit and take the stairwell on your right.
After you get up the stairs, immediately u-turn and the turn right onto Pembridge Gardens.
Walk down most of the block until you see number 23. Buzz flat 11.

From Heathrow
If you're feeling cheap and/or slow:
Head down to the underground station (past Heathrow Express).
Buy a "Single ticket to zone 1."
Head down and hop onto the train.
You'll go through 13 stops (about 45 minutes) at which point you'll be in Earl's Court.
Change to the District line heading north toward Edgware Road.
Head north for 2 stops. Get off at Notting Hill Gate, follow the directions above, and immediately crash on my couch.

If you're feeling rich and/or rushed:
Head down to the Heathrow Express and buy a ticket to Paddington (14 GBP).
Get on the train, you'll be at Paddington in 15 minutes.
Get off the train. If you have lots o' bags, it'll be easier to take a taxi for about 8 GBP.
If not, buy a "single zone 1" ticket (just bumped to 3 GBP, unfortunately) and change to the circle or district line heading south.
Stay on the train for two stops. You'll be at Notting Hill Gate. Get off and follow the directions above.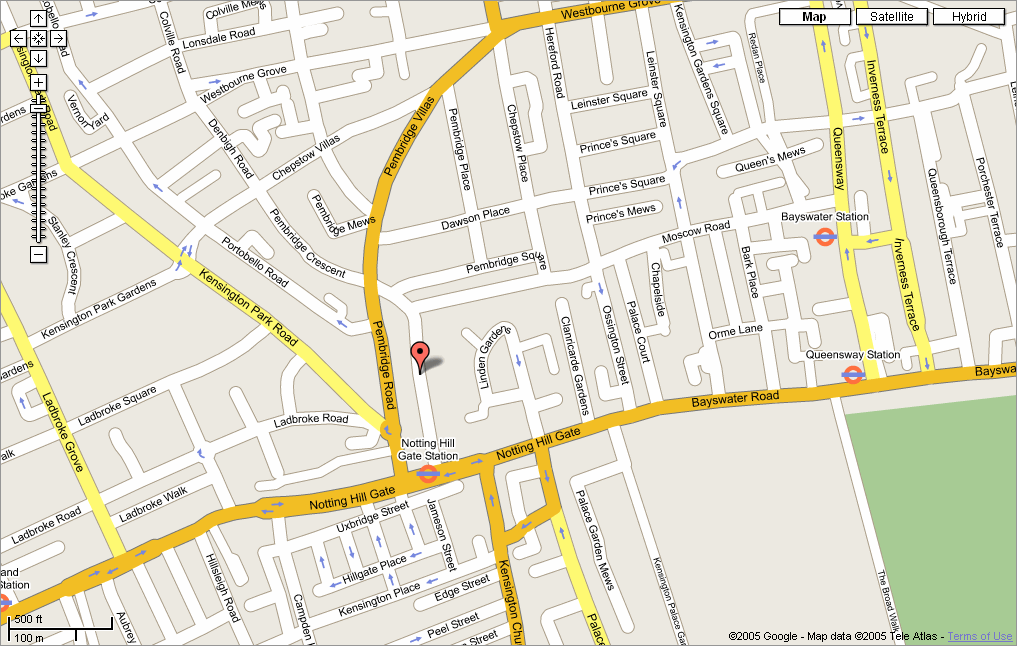 Map courtesy of Google Maps.